ECORASTER TS50 – riding area grid
The grid for daily professional life
With the TS50, your surface gets noticeably more cushioning and elasticity.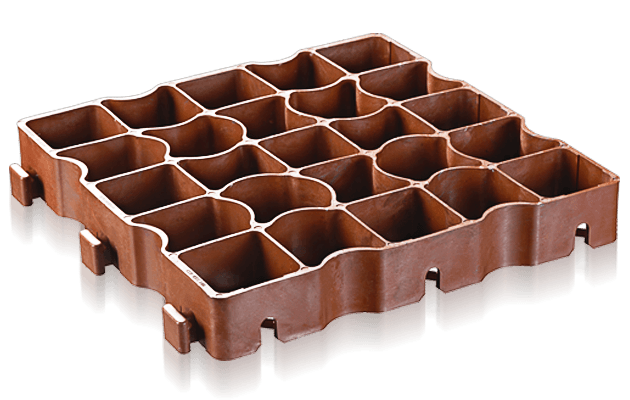 Product description
Tested in tournament riding and recommended by the world elite. Particularly for regular high loads in dressage, show jumping and western riding, the TS50 excites with its outstanding elasticity and the unique cushioning comfort.
Noticeably more load capacity and enjoyment in movement mean more safety for horse and rider. Like a good pair of sneakers for people, the muskuloskeletal system of the horse is protected by a good surface. We have already regularly transformed hard concrete surfaces, such as in exhibition halls, with ECORASTER TS50 into grippy but still cushioning, high-performance surfaces.
The animals clearly get much more enjoyment from the constant performance!
Delivery times on request.
Dimensions:

330 mm x 330 mm x 50 mm

Wall thickness:

up to 2.5 mm

Load capacity:

up to 800 t per m²

Weight per m²:

6.66 kg

Weight per piece:

0.74 kg

Wall height:

50 mm

Material:

100 % recycling material PE-LD (polyethylene)

Compressive strength:

up to 20 t axle weight according to DIN 1072

Form stability:

Temperature range -50º to 90º

Moisture absorption:

0.01 %

Environmental sustainability:

Environmentally neutral according to OECD 202:2004

Solubility:

resistant to acids, alkalis, alcohol, oil and gasoline (road salt, ammonia, acid rain, etc.)
Outdoor riding area

Circles and round-pen

Indoor riding arena
Regularly tested and certified
A personal consultancy meeting
+49 171 611 18 41