ECORASTER TE50 – high load grid
The strongest professional grid for the highest loads.
The TE50 is the first choice for surfaces with extremely high loads and can also be driven on by the heaviest machines.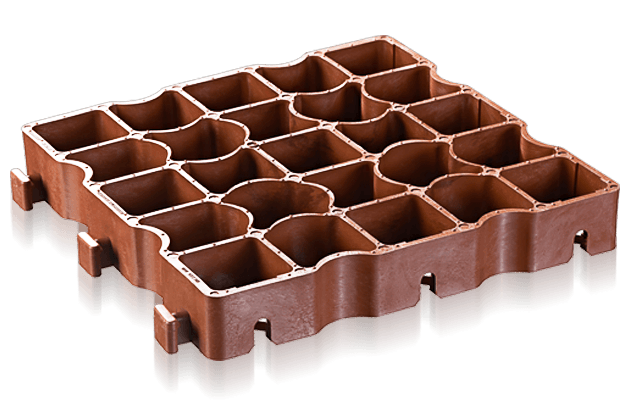 The super strong, indestructible ECORASTER TE50 withstands even the highest loads thanks to its design boasting a wall thickness of 5 mm. With a weight of almost ten kilograms per m2, the TE50 bristles with robustness but is still much easier to install than comparable concrete products. A real powerhouse for use in particularly heavily used and high load riding facility surfaces. Access routes, loading places and extremely heavily used access paths are the applications most frequently chosen. But also for keeping cold bloods and the respective movement surfaces, the TE50 is often the first choice.
Surfaces laid down are easy to clean, and, when the easy handling instructions are adhered to and with the correct sub-structure, free from mud and sludge. ECORASTER can be used year round and can be re-laid if required and is thus also a reliable solution for rented stalls.
Delivery times on request.
Dimensions:

330 mm x 330 mm x 50 mm

Wall thickness:

up to 5.0 mm

Load capacity:

up to 800 t per m²

Weight per m²:

8.79 kg

Weight per piece:

0.98 kg

Wall height:

50 mm

Material:

100 % recycling material PE-LD (polyethylene)

Compressive strength:

up to 20 t axle weight according to DIN 1072

Form stability:

Temperature range -50º to 90º

Moisture absorption:

0.01 %

Environmental sustainability:

Environmentally neutral according to OECD 202:2004

Solubility:

resistant to acids, alkalis, alcohol, oil and gasoline (road salt, ammonia, acid rain, etc.)
Walkers

Access and storage areas
Regularly tested and certified
A personal consultancy meeting
+49 171 611 18 41