ECORASTER TE40 – all-round grid
The all-round grid for every paddock.
Our well-loved multi-talent offer itself for many applications and is the classic in paddock construction, with or without covering.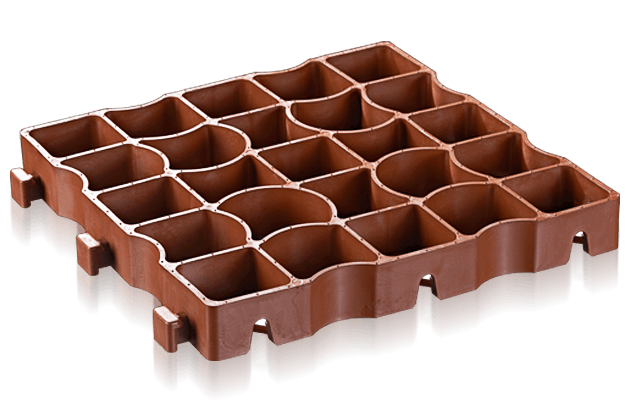 Product description
Often copied but never matched! The ECORASTER TE40 frees your paddock surface from sludge and mud in a few steps. Alongside its high load capacity and use with vehicles, it clearly reduces the maintenance effort on the lying surfaces in addition.
The ECORASTER TE40 has been our highest selling grid for many years and convinces with an outstanding price-performance ratio - perfect for use in the paddock, quickly installed and can be used with or without covering. With a height of 40 mm and the robust connectors, the TE40 lies reliably from the beginning and defies the loads applied.
Surfaces laid down are easy to clean, and, when the easy handling instructions are adhered to and with a correctly prepared sub-structure, free from mud and sludge. ECORASTER can be used year round and can be relaid if required and is thus also a reliable solution for rented stalls.
Delivery times on request.
Dimensions:

330 mm x 330 mm x 40 mm

Wall thickness:

up to 3.6 mm

Load capacity:

up to 800 t per m²

Weight per m²:

5.94 kg

Weight per piece:

0.66 kg

Wall height:

40 mm

Material:

100 % recycling material PE-LD (polyethylene)

Compressive strength:

up to 20 t axle weight according to DIN 1072

Form stability:

Temperature range -50º to 90º

Moisture absorption:

0.01 %

Environmental sustainability:

Environmentally neutral according to OECD 202:2004

Solubility:

resistant to acids, alkalis, alcohol, oil and gasoline (road salt, ammonia, acid rain, etc.)
Paddocks

Walkers

Open and active stable

Paths and feeders

Access and storage areas
Regularly tested and certified
A personal consultancy meeting
+49 171 611 18 41