ECORASTER TE30 – quality grid
The economical separation layer for your riding area.
Protect the expensive footings with minimum cost.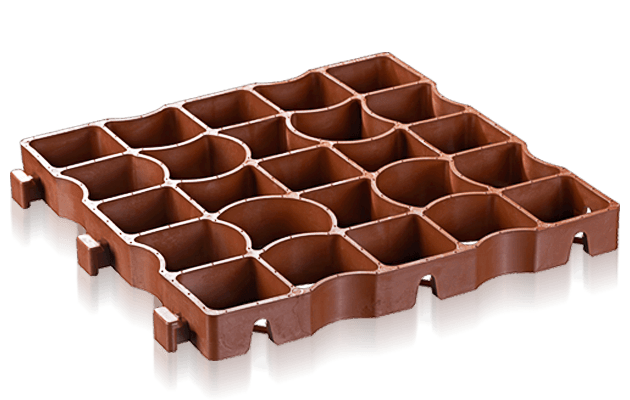 Thanks to its low weight, the ECORASTER TE30 is laid very quickly and provides an optimum separation of sub-structure and footings. In this way, you prevent the stones from migrating out of the sub-structure. ECORASTER has a composite system proven worldwide millions of times that ensures both the performance and the life of the surfaces.
Delivery times on request.
Dimensions:

330 mm x 330 mm x 30 mm

Wall thickness:

up to 4.4 mm

Load capacity:

up to 800 t per m²

Weight per m²:

5.31 kg

Weight per piece:

0.59 kg

Wall height:

30 mm

Material:

100 % recycling material PE-LD (polyethylene)

Compressive strength:

up to 20 t axle weight according to DIN 1072

Form stability:

Temperature range -50º to 90º

Moisture absorption:

0.01 %

Environmental sustainability:

Environmentally neutral according to OECD 202:2004

Solubility:

resistant to acids, alkalis, alcohol, oil and gasoline (road salt, ammonia, acid rain, etc.)
Outdoor riding area

Indoor riding arena

Circles and round-pen
Regularly tested and certified
A personal consultancy meeting
+49 171 611 18 41